Lashing, Securing and Packing of a Helicopter Fuselage for Air Freight Shipping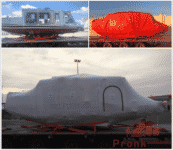 Pronk was awarded a valuable business opportunity again from a prestigious customer to offer lashing service and securing service of a Helicopter's fuselage onboard a trailer for local transport between Fujairah and Sharjah airports and then to perform an airworthy packing of the fuselage unit to ship it out of UAE. And the entire operation was carried out on a single day.
We offered a professional lashing service and securing service to the unit using Pronk's very own certified lashing materials and trained team with a temporary tarpaulin packing for local transport. The team escorted the fuselage unit unto it's next drop point in Sharjah International Free Zone where the unit was un lashed by our team and heat shrink wrapping was carried out on the unit by our same team soon after which the unit was shipped out by air.
It was indeed a precision scheduled operation since the fuselage unit had to be air freighted urgently. We carried out this operation with our experience in performing similar jobs in the past and ability to consistently offer the same level of service at all times to win our customer's trust.
Back