An Out-of-the-box idea for an Out-of-Gauge Cargo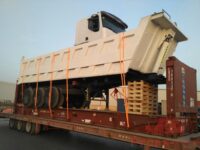 Pronk Multiservice was approached by a Customer from the freight forwarding industry with a challenge of shipping Dumper truck units on Flat Racks. The engineering team at Pronk designed an out-of-the-box plan to load the truck head into the dumper unit thereby containing both truck head and trailer part on a single falt-rack and the Loading and Lashing scope was awarded to Pronk.
Pronk arranged the lifting gears required for the arrangement (Spreader Beams, Slings and Shackles) on Rental basis and executed the loading operation with military precision and thereafter all units were lashed as per International Maritime standards for a safe voyage.
This gave the customer a cost effective shipping solution in a unique way like none other.
Again just a regular day of business execution at Pronk Multiservice where challenges are resolved with ideas.
Back