Becoming Responsible – Sustainable and Reusable Packaging Solutions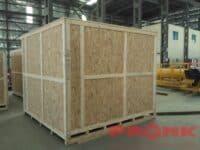 Sustainable development strategy has now become the buzzword for logistics companies. The institution of sustainable and re-usable packaging obviates excessive depletion of natural resources while maintaining the profitability of logistics enterprises. Many companies are now embracing innovative solutions to enhance the flexibility and efficiency of the supply chain. Newer technological solutions and services are maximising the best use of natural resources.
Pronk's 4R Resource Management Tools
At Pronk's, we focus on the optimal use of resources in all our packaging solutions to nullify wastage. This has helped us in not only reaching our sustainability goals but has accrued us savings and profitability in our supply chain processes. We use the following strategies to fulfil our sustainable development goals:
Reduce – We commend the use of sustainable and re-usable packaging such as pallet collars instead of disposable packaging, thus minimising the use of tapes and cartons. By doing this, we reduce wastage. We tailor our packaging as per customer requirements. Our judicious use of wooden pallets and metal containers not only ensures performance but also reduces any negative impact on the environment.
Reuse– In our quest for sustainability, we greatly encourage the use of packaging that can be re-used. Collection of used packaging material and then ensuring their quality through repair and maintenance helps in the re-use and re-circulation of packaging material
Recycle – All measures are taken to ensure the serviceability of the packaging material that is used in our logistics operations. Pronks takes all remedial steps towards repair and maintenance to postpone recycling till the packaging's final disposal.
Recover – As stated above, we ensure that our packing material is treated to the highest standards of recovery and quality before being re-returned to the supply chain, thus efficiently utilising both wood and fuel in our operations. This also ensures that material does not end up in landfills.
Re-usable and Sustainable Packaging Trends to Watch Out For
With the increased adoption of environment-friendly technologies and processes, the time is not far off when enterprises will go all out in incorporating compostable, reusable and recyclable packaging. Whilst COVID-19 has thrown a spanner into sustainability goals, it has also shown the world how much the environment can flourish when economies flounder and grind to a halt. Here are some trending themes which will pave way for better use of sustainable and reusable packaging:
Newer models will be created which will strive for 100% recyclability. For instance, PET is only 30% is recyclable. This will entail collaboration between stakeholders across enterprises.
Reuse models will continue to grow and flourish in tandem. As customers become more environmentally conscious, reuse packaging platforms will mushroom. Companies resorting to this will see strong year-on-year growth.
Compostable packaging will carve a niche for itself and will soon become a viable alternative to disposable packaging. Eco-friendly packaging such as bio-polymers including PLA (polylactic acid) will garner significant attention on the back of their biodegradability.
Great accountability and responsibility will be seen and many policy changes will be instituted towards legislation and building a framework for collection and processing of packaging. Many municipalities will be rewarded with fiscal relief for the expansion of recycling systems.
Newer Forms of Recycling Gain Impetus
Recycled PET, one of the most commonly used plastics, is widely gaining traction as a sustainability technique. Its benefit lies in its high-quality post consumption. Some of its main benefits are:
Carbon reduction accounting for almost 75% lesser CO2 emissions
Reduction in waste that goes into landfills
Creation of other more sustainable packaging materials such as polyester
Newer forms are helping companies with their commitment towards a more circular economy. Such tangible solutions will continue to contribute to the development of not only sustainable and reusable packaging solutions but also a more responsible use of plastic.
Back