First 126ton lift by gantry crane in Jebel Ali Port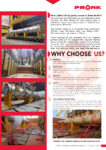 We are proud that this week we were allowed to help realizing the first 126ton lift and loading onto a container vessel by a gantry crane in Jebel Ali port, executed by DP World.
The loaded cargo is a combined feed exchanger, 2376cm long, 444.50cm wide, and 460cm high. The total weight was approx. 126ton.
Pronk Multiservice got awarded from its longterm partner CMA CGM to calculate the required lashing forces, create the lashing plan, supply the necessaire materials and supervise the onboard lashing activity for this cargo, ensuring that the shipment will reach after this exciting lifting job, safely the destination.
Back