Honeycomb Packaging and Its Uses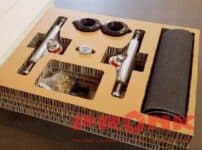 Consumers are increasingly becoming environment-friendly and prefer being associated with brands that use sustainable packaging for their products. Nearly 74% of consumers are willing to pay more for sustainable packaging. Besides reducing carbon footprint, using eco-friendly packaging helps a brand in establishing its public image as a responsible organization. It also gives the brand an edge over its competitors. One of the popular options in eco-friendly packaging material is honeycomb packaging.
What is Honeycomb Packaging?
Honeycomb packaging is a kraft paper-based, eco-friendly and cost-effective material that provides superior strength despite being light-weight. Inspired by nature, the design resembles the inside of a beehive. Honeycomb packaging is made by joining individual bands of kraft paper together into a series of continuous hexagonal cells, providing strength and rigidity. The cells are faced on both sides with similar materials to form an extremely strong product. Honeycomb packaging provides high levels of protection due to its ability to cushion and absorb shock, allowing safe transit of goods and minimizing damage.
Honeycomb products are used in many areas such as packaging, dunnage, pallets, furniture inner structures and signage displays. Honeycomb packaging can be custom-designed to meet individual packaging needs. It can be used as inner or outer packaging material. And, it does not change in dimensions with temperature variations. Manufactured from renewable resources, honeycomb packaging is biodegradable, 100% recyclable and easy to dispose of.
The rise of the e-commerce sector and demand for protective and sustainable packaging by various industries such as electronics, automotive, furniture and consumer goods are driving the growth of the honeycomb packaging market. The global honeycomb packaging market is estimated to surpass US$ 16.95 billion by 2025.
Honeycomb Packaging Benefits
As a multi-purpose packaging material, honeycomb packaging is one of the most widely used packaging options worldwide. The factors that make it so popular are:
Honeycomb packaging is considered to be stronger than steel due to its unique design structure. It is often compared to an I-beam which is commonly used in construction and civil engineering. Honeycomb packaging cannot be compressed easily due to its strong structure. The material is lightweight which helps in lowering shipping weight and thus, reduces freight costs. It also helps in faster packing and loading of goods.
Cost-effective and bio-degradable
Honeycomb manufacturing requires less material as compared to many other packaging solutions and thus, is cheaper to produce and purchase. It does not crumble and is 100% recyclable. Unlike wood products, honeycomb packaging does not require export certification, making it the ideal packaging solution for export shipping. It is humidity resistant due to the PE film coating on the kraft paper. This protects the cargo even in the fluctuating weather conditions.
It can becustomized to pack all types of products while optimizing the volume of packaging material required. This reduces waste and handling of surplus packaging.
In Conclusion
Most industries are embracing sustainability to counter carbon footprint. Honeycomb packaging has a multitude of applications in different industries because of its durability, eco-friendly and lightweight qualities. Honeycomb packaging is fast gaining popularity among auto part manufacturers due to the development of vehicle interior parts using paper honeycomb products.  It is also used to ship various parts such as headlights, fenders, and engines wrapped in die-cut paper honeycomb packaging to ensure safe transit. The textile industry uses honeycomb packaging to transport materials such as silk and bobbins across the world. Being flexible and environment-friendly, honeycomb packaging is slowly replacing other packaging materials such as PUF, MDF, bubble wrap, EP foam and particle boards.
Back