How Different Types of Packaging Can Contribute to Environmental Sustainability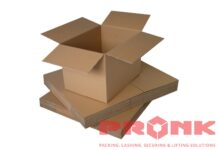 The accelerated use of packaging in the logistics sector is one of the driving factors for increased environmental consciousness. It has also increased the awareness of the carbon footprint left behind by these packaging materials. To improve sustainability in business operations, an increased number of organizations are using sustainable and eco-friendly packaging for their goods. Packaging in logistics is being subjected to a thorough life cycle assessment and a life cycle inventory to reduce the overall carbon footprint.
The Newest Eco-friendly Packaging Trends in the Market
With increased awareness of environmental issues and organizational attempts at reducing their carbon footprint, we can see new trends emerging in the eco-friendly packaging sector:
Paper Packaging
Paper packaging is slated to be one of the most environmentally sustainable forms of packaging. The use of corrugated packaging in logistics has gained impetus and is the key to correct brand positioning. Many companies are now leveraging its benefits. Most popular is the Kraft paper or brown paper which is being used internationally and is gaining recognition due to its resistance, strength and effectiveness. It is a plant-based recyclable and compostable material.
Glass Packaging
Glass packaging materials are being used in many logistical operations not only for their eco-friendliness but also for their structural integrity and tensile strength. Glass packaging material does not impact product quality, is inert and safe to use.
Metal Packaging
Since the 1990s, metal has been satisfactorily used for packaging purposes. It ensures sustainability, safety and a wide range of designs. Because of its infinite recycling ability, it is regarded as one of the most sustainable and eco-friendly packaging methods.
Bubble Wrap
Simply put, this trend-setting packaging material has taken the logistics world by storm owing to its ability to cushion items. Bubble wrap can be recycled along with other plastic at designated recycling points.
Tangible Business Benefits of Using Eco-friendly Packaging
There exists some inertia despite the myriad sustainable packaging options available in the market. Inhibitions are mostly surrounding costs, availability and integration with business processes. Despite the perceived lacunae, business leaders are recognizing the innumerable benefits of eco-friendly packaging. Some of them are:
Heightened brand awareness and customer perception
Profitable bottom line in sustainability-conscious demographics
Ideas and opportunities for better brand positioning in newer markets
Better consumer satisfaction through increased use of disposable and recycled packaging formats
Reduction in the overall cost of product manufacturing through minimized material utilization
Overall reduction in the carbon footprint
Savings accrued in warehousing with judicious use of materials
Consumer Behavior and Demand for Eco-friendly Packaging
Heightening sustainability consciousness has made the environment rife for the adoption of sustainable packaging. With consumer perceptions changing, the Sustainable Packaging Coalition (SPC) has chalked out a proposal of packaging criteria that fulfills consumer expectations. Eco-friendly packaging should adhere to the following points:
That packaging be healthy and safe for not only consumers but also businesses throughout their entire life cycle
Meets all performance and cost metrics and is manufactured using recycled and renewable materials
That the use of safe and clean production technologies are incorporated in the ambit of sustainable packaging options
The packaging is designed in such a way that it optimally uses energy and materials
Evidence and research suggest that nearly 51% of millennial are now checking packaging for all major sustainability claims and a massive 70% will make purchase decisions based on how environmentally safe the packaging is. Many have shown a stark preference for sustainable packaging that is more exorbitantly priced, preferring it over less sustainable options. A colossal 65% have rejected packaging that did not conform to sustainability standards.
Types of Packaging to Avoid
Biodegradable plastics have been significantly highlighted as a formidable biodegradable packaging format that could help to circumvent the use of single-use plastic. These are also known as oxo-biodegradable plastics and are being heavily manufactured as they can safely biodegrade in soil.
Plastics containing Bispehnol-A which is a plasticizer additive is said to be extremely harmful to the environment. If ingested, it can cause cancer and hormonal disorders.
However, questions still arise on their long-term impact on the environment. Since bio-plastics typically use food crops such as sugarcane, their demand can cause fluctuations in the food chain, creating shortages or leading to veritable price hikes. Other fall-outs are deforestation, greenhouse gas emissions and excessive fertilizer use.
A holistic approach is essential to ascertain environmental aspects of packaging and choose a sustainable material that is taken in the correct context of business applications and consumer demands.
Back