How to Leverage the Benefits of a Lifting Material for Packaging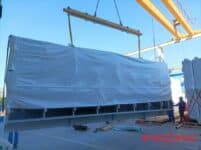 What are the lifting materials, and how does it work?
Lifting materials for packaging are those materials that help you in lifting the loads by curtailing the burden on your hands. Lifting services provided by the packaging companies in India use top-notch lifting materials. It enables you to move those things from one place to another that are impossible for manual labor to progress. You could see lifting materials in various forms like forklifts, patient lifts, passenger lifts, overhead cranes, jacks, etc. It works primarily in 4 different Lifting Stages
Starting Preparation, Lifting, Carrying, and Setting Down.
In the preparation stage, you plan your lifting like load heaviness, load destination, handholds required, etc. In the lifting stage, avoid twisting, jerking, & keep closer to the load. In the carrying stage, use your feet for turning by keeping your knees, hips, toes, and shoulders in the same direction. In the last stage of setting down, use the reverse order for setting down the load in the similar way you picked it up. Also, keep your stomach muscles tight, avoiding body twisting. Bend on your knees & not on your hips for safety. Being one of the leading packaging companies in Dubai, we serve you well with the best lifting services, including container spreader, truck lifting gear along with some customized lifting solutions.

What are Lifting Materials Used For?
Lifting materials are used to lower the load on human labor.  Lifting materials are made from top-notch technology to securely lift your items from the source to their final destination. The primary usage of the rigger & lifting materials for packaging is conducting the safe moving, lifting, pulling, positioning, and preserving the heavy devices, loads, and types of machinery. Here, a rigger is a term used to refer to a person working upon the pulleys, hoists & other lifting harnesses for moving multiple loads, for example, different shaped, sized, weighted raw materials, in-process goods, and finished goods in varied fields. Lifting materials are used for various industries like Construction, Steel Manufacturing, Mining, Telecommunication, Oil & Gas, Engineering, Shipbuilding, Power, etc.
Why Should You Use Lifting Materials For Packaging?
Every company employee should use the lifting materials for packaging to safeguard themselves from significant health problems. Workplace injuries due to lifting heavy objects have become extremely common today. Cumulative trauma & overexertion are noted to be the most important reasons for such damages. Moreover, employees could suffer bending, twisting & turning, leading to back injuries. The overall motive of the Lifting Material for Packaging is to keep your employee's health safety and to maintain a healthy work environment.
If you are manually moving heavy objects from here & there, sprains & strains are also common to experience. While lifting heavy items manually through labor, they are prone to wrist injuries, spinal injuries, muscle pulling, elbow injuries, back sprains, etc. But by using our Lifting Material for Packaging, you stay assured of staying safe from such illnesses. Work efficiency gets improved & the risk of getting retinal detachment or musculoskeletal injuries gets reduced by a significant amount. Moreover, it expedites the entire lifting process, saving a lot of your time, money, and effort.
Conclusion
Lifting materials for packaging allows the smooth lifting process of heavy items. Make sure to follow all the protocols of lifting for safety. Outsourcing lifting services from the leading packing company in Dubai & India like us saves you from various health injuries & unseen problems ahead. Contact us now to avail the best lifting services.
Back