Pronk Offers Loading and Lashing Services for BBC Vessel In Jebel Ali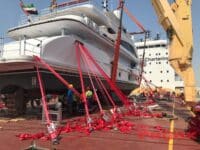 Pronk Multiservice, who is in times past dealt with numerous prestigious customers, has now extended its services to the BBC Vessel in Jebel Ali. More specifically, we as a team offered the best of our lashing services, lifting services and securing material and services towards ensuring that the products on board the vessel remains undamaged.
During the operation, our trained and well-experienced team used our high- quality certified lifting gear to lift the products onto the BBC vessel. The modular lifting gear is accompanied by 50-ton belly slings that are able to carry and/or lift items regardless of weight and size.
In an attempt to offer only the best in terms of service and quality, the lifting slings and gears we use are extremely strong, durable and have no limitations. Hence, the efficiency displayed during lifting exercises onto the BBC vessel.
After, we used securing belts or lashing belts to secure the items on board. Cargo on board of a vessel is extremely sensitive to damage, due to the factors they are exposed to out at sea. From an unsteady sea or ocean current to strong raging winds, cargo can easily be thrown overboard if not secured properly.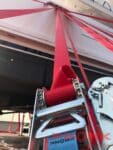 With this in mind, we ensure that use only the best lashing materials and lashing services. To secure the cargo on board, we used special Yacht lashing belts LC of 5 ton BL 10 tons. These, in the services and industry that we operate in, rank among the strongest and most durable lashing belts available.
All these services were carried out efficiently and in good time, ensuring the BBC vessel was ready to go within the scheduled time. Thanks to our experienced team, our services remain top-notch in the industry and rank among the most sought after.
When it comes to transporting fragile products over long distances, safety and the preservation of the said products is of utmost importance. This is what we, as Pronk specialize in. By offering services such as lashing, lifting, securing and even packing, we are quickly redefining the industry with our services.
Just like the lifting services, securing services, lashing services materials and services we offered for the BBC vessel, we never compromise on quality and high customer experience. Other than the BBC vessel as a client, we have also dealt, interacted and offered our services to other prestigious customers in need of our services.
On top of the aforementioned services, we also offer packaging services and heat shrink wrapping among others.
Back