Pronk Provides High-End Lashing Services to Its Long-Term Partner CMA CGM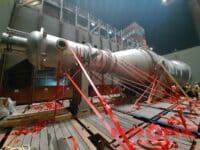 Continuing its stellar and world-class lashing services, Pronk Multiservice added yet another feather in its cap by successfully completing a high-profile lashing job for its long-time partner CMA CGM.
A total of 4 reactor units, each weighing 163 tons, 206 tons, 208 tons and 227 tons, respectively, were carefully loaded, lashed and secured to reach safley their destination at Antwerp. The end of June witnessed two of these units being successfully offloaded at Antwerp. This is yet another testament to the great teamwork of Pronk Multiservice staff and engineers despite high temperatures and extreme working conditions.
The lashing involved painstaking work. It was carefully planned, 2D and 3D lashing drawings were immaculately done and necessary calculations were made on how to best secure the units. A strategy was devised on how to lash the cargo safely keeping external forces in mind and give the best possible results to the client.
The task was not only completed well in time but the quality of work far exceeded the expectations of the client. In keeping with our mission statement, Pronk Multiservice continues to go the extra mile in ensuring prompt and efficient services for its client.
To know more about our packing, lashing and lifting services contact us at: marketing@pronkmultiservice.com
Back