Rising Though This Pandemic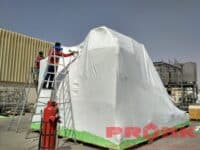 Adapting the New Normal, this is the world trend after the coronavirus catastrophically affects the whole world. This pandemic shut down many countries causing menace in almost all industries. Pronk Multiservice is not immune to this pandemic's threat that is why continuously adjust, shape, and apply sustainable procedures and megatrends to the rise of this crisis.
In the industry that we operate, we are still one of the leading providers because of our efficiency and dedication. We have endured and lived through issues of packing, lashing and lifting such us fragileness and proximity thanks to the efficacy of our professional team. Our company will be more resilient and sensitive to this New Normal making sure that the team's health will not put to jeopardy. We have long surpassed the satisfactions of the companies we have worked with and this pandemic will not able to stop us in doing so.
Back