Ship loader lashing with 16mm steel wire rope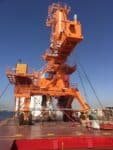 Last month we were allowed to execute the onboard lashing of a Ship Loader with steel wire rope onto the weather deck. Additional D-Rings had to be welded to increase the lashing points on deck and to maintain proper lashing angles.
Pronk Multiservice got awarded from its longterm partner BBC to supply the necessary lashing materials and execute with our highly skilled and experienced team the onboard lashing activity.
We are happy that BBC is choosing us as their regional partner for these activities in the region and we are proud that our quality and continuous excellent service is helping to archive a safe journey for cargo, ship and crew.
Back