Pronk Multiservice, Dubai ISO 9001: 2008 Certified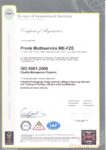 For all your industrial packaging services, Pronk Multiservice, Dubai has got you sorted. We are experts in state-of-the-art cargo lashing, trading, lifting & securing services as well as world-class lifting & lashing materials.
There are different types and sizes of industrial packaging items to cater for both large and small businesses while ensuring efficient carriage of both heavier and lighter products.
Why Pronk Multiservice
we are an industrial packaging outlet located in the heart of Dubai. Our expert team is working around the clock to ensure that we've got all your business needs met by providing modern protective packaging products and machinery. We offer expert technical support to all our customers.
In business, you deal with a wide range of goods thus requiring flexible lifting services, lashing services, trading materials, packaging services, & securing solutions. We are specialists in all types of industrial applications at affordable cost for you.
As a manufacturer, standard packaging isn't all you need. To make your business goals a reality, you've got to walk an extra mile and go for specialised, customized and smarter way to pack your products. Our work is to provide the right package for you.
Packing Services & Securing Solutions
We offer a wide range of packaging services  & securing solutions like
• corrugated packaging
• VCI packing
• Dangerous Goods Packaging
• Specialised triple wall packing
• Hood boxing
• Customised packaging
• Palletisation & bundling
• Wooden boxes and skeleton crating
• Specialised honeycomb packing
• Aluminium barrier packing (vacuum Packing)
• Intercept (anti corrosive packing)
• Heat shrink wrapping
Our highly experienced team of packing experts are on board to help you find the right packaging solution for your business.
Lashing Services
Securing your cargo to prevent damage during transit is our job. We offer a comprehensive range of lashing services for both small and large businesses to help safeguard your cargo. At Pronk Multiservice, you've got the best container and flat racks lashing, latching of yachts, lashing of vehicles as well as lashing of cargo on barge and vessels.
Lifting Services
Whether you are looking for right customised lifting solutions, container spreader, truck lifting gear, and lifting equipment rental or sale, we provide exactly what meets your business needs.
We go out of our way to offer more lifting services like shackles, slings, beams and other equipment and we offer such in higher capacities if you like. You can choose to buy or rent our lifting equipment for your every need.
Trading Solutions
Visit our online store to find our extensive range of packing materials you need for all your packing, lifting, securing and lashing solutions. Talk to our experts and get to know whether you need to buy bubble rolls, nails, clear tapes, masking tapes, plastic sheets, brown tapes, plastic sheets, plywood and more to suit your needs.
Does It End Here?
No! we are working round the clock to deliver up-to-date packaging, lashing, lifting & securing packaging equipment and materials. We understand the need to secure your cargo and our job is to help you hit your goals with no hassles. Ours is to bring to you everything you need to make your dreams come true and take your business to the next level.
Contact Us
For all your preservation packaging materials, lifting & lashing materials, visit our website or call us now to enquire more about what we offer.
Back