6 Reasons Why You Must Use Custom Industrial Packaging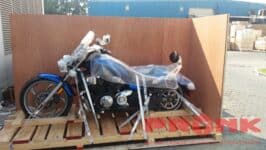 Custom industrial packaging plays an important role in telling a company's or a brand's story. Industrial packaging, when done correctly, initiates an interaction between the consumer and the product. This paves the way for brand awareness and enables customer engagement. Thus, companies are leveraging customized industrial packaging to make a good impression of the brand.
Also Read: Top 10 Industrial Packaging Trends
Here are some reasons for embracing custom industrial packaging:
REDUCES FINANCIAL COSTS
Custom packaging helps businesses incur cost savings. Saving money is one of the supreme challenges for any business; doing that on packaging helps increase profit margins. Common challenges with standard boxes include inappropriate sizes and not meeting product packaging specifications. Custom boxes provide perfect fitment and prevent damage to the products. Customized boxes manufacturers also offer amazing discounts which can reduce overall shipping expenses.
Also Read: Specialized Triple Wall Packing
IMPROVES THE QUALITY OF PRODUCTS
Custom industrial boxes help in improving the overall quality of the product and the way it is presented to the customers. One way of impressing the customer is through the design and quality of the product, including the kind of packaging. Once a customer receives the product and is awed by customization, they will feel even more confident of having chosen your product. When businesses interact with customers, the first impressions matter a lot. A good impact helps in generating leads and sales. A perfectly designed and customized box helps in enhancing the overall value of your product.
DIVERSE PRODUCT PACKAGING
With customization, customer requirements can be met for boxes in any size shape and form. All you have to do is explain your requirements to get the customization that you want. You can make the packaging visually appealing and durable so that it does not get spoilt or tampered with during transit. Often products sent by freight are oddly shaped. This increases the chances of them being damaged. Custom boxes help to protect the boxes and give them the right padding that cannot be provided by standard boxes.
Also Read: Wooden Based Packaging – Types and Benefits
BUILDING BRAND AWARENESS
In present times, the environment is changing rapidly. It has become all the more important to build brand awareness as more and more people are brand conscious today. Businesses should have an astute focus on their brands. Building a strong brand will enhance and build a strong customer base as well. Visual appeal has garnered paramount importance in the brand positioning of a business. Designing boxes that are attractive, well-shaped and customized to offer the perfect fit can increase the brand value of a company. Brand colors, fonts and logos have gone a long way in enhancing the aesthetic appeal of custom industrial boxes. You also communicate professionalism and trust to the customers.
HELPS BOOSTS SALES
Packaging also contributes to sales; effective marketing and great packaging can drive sales more efficiently. It also grabs the attention of people who show interest in purchasing products and services. In a market scenario, products that are well and aesthetically packed have better chances of being sold as compared to those that are packed in standard boxes. Products packaging that engage, enthuse and provide a better customer experience helps in giving an uptick to sales.
Also Read: Customized Packaging Service in Slanting Position to Fit in Reefer Container
ECO-FRIENDLY BRANDED BOXES
There are a plethora of options these days to make the packaging eco-friendly. With people worrying a lot about the way packaging is impacting the environment, it does well for companies to resort to eco-friendly packaging. Eco-friendly packaging helps to increase the overall sales volume. This sort of packaging aligns with the basics of sustainability and can create high degrees of trust amongst consumers. By following the latest sustainability trends, companies can solidify their position in the world of business.
Also Read: How Different Types of Packaging Can Contribute to Environmental Sustainability
For industrial custom packaging to succeed, companies must also strive to establish very strong relationships with their manufacturers and suppliers to ensure well-planned and timely deliveries. Thus, boxes can be designed accordingly and with better forethought.
Back